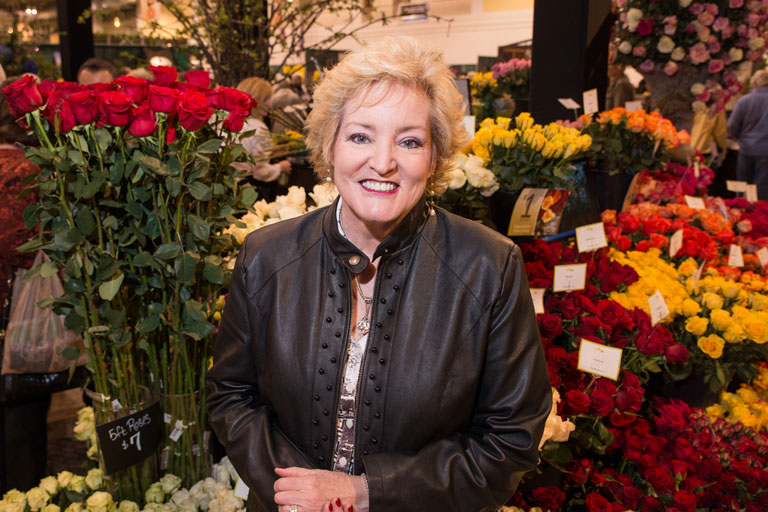 Susan Fox, author is a consulting rosarian, award winning photographer and event planner that speaks, grows, and shows roses and gardens. Company founder of Gaga's Garden®, and author of Four Seasons of Roses Monthly Guide to Rose Care Ms. Fox was recently awarded the American Rose Society's (ARS) Presidential Citation "for Promoting the Rose and Rose Education Via Social Media." Her most recent accomplishment is, according to Chicago Flower & Garden Show Director, Tony Abruscato, a 'Miracle on the Pier,' where for the first time in a decade the show presents a rose garden – two in fact: one, a "classic" rose garden, and the other featuring miniatures and minifloras. Ms. Fox's year long efforts facilitating collaborations between growers and others "were key in making the show's rose gardens a reality," according to Mr. Abruscato. She currently represents Hometalk, the world's largest home and garden social network on National television with recent segments on NBC "Show Me St. Louis," and the highly rated "WGN Morning Show" in Chicago. Last spring she attended TV host, designer, gardening and lifestyle expert, P. Allen Smith's Garden2Blog 2014, and she was asked to be a judge at the International Biltmore Rose Trials in Ashville, NC. As co-host on June Stoyer's live production, The Organic View Radio Show called The Rosarian's View, at her heart is a commitment to generating educational, entertaining content that profiles specific products, personalities, places and events that engage the larger audience through targeted social media campaigns. This and other acknowledgments in the gardening community has firmly established Susan as one of the most highly regarded rosarians and gardeners in the industry with a special talent for promoting garden related products, people or events via social media and content marketing. The Website at www.gagasgarden.com features a sample of Gaga's Garden® content and story telling graphics that keep readers coming back for more! Her breath-taking photo of Julia Child, a floribunda rose was selected for the ARS 2014 Calendar, July.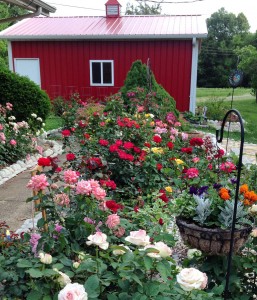 Purchase Four Seasons of Roses Monthly Guide to Rose Care planner at Amazon: Four Seasons of Roses Monthly Guide to Rose Care
10% of all profits of the sale of Four Seasons of Roses |2014 Monthly Guide to Rose Care will be donated to the American Rose Society Educational Endowment Trust.  Become a American Rose Society member today!
Description: Gardeners have expressed to me a desire to have their very own rose garden or add roses to their existing garden for as long as I have grown roses. Most of the time, the only thing standing between a gardener and having the rose garden they desire is a lack of knowing what to do to grow roses or thinking that roses, the queen of flowers, are too difficult to grow. I believe growing roses is easy, fun and certainly rewarding. The Four Seasons of Roses Planner, Monthly Guide to Rose Care, is an easy monthly guide filled with suggested gardening tips of what-to-do each month and all through the year to establish and maintain a healthy, beautiful rose garden. Keeping a journal and recording your garden's history from year-to-year is fun and an important part of growing your knowledge base of rose growing
Specialties
Social Media Engagement |Brand Identity Creation |Content Marketing |Association Relations | Recruiting & Training | Public Relations | Sales Support Development |Advertising & Promotion | Motivational Speaking | Advertising | Strategic Planning | Marketing Strategy | Lead Generation | Conference Speaker | Sales Management | Strategic Alliances and Business Development Product Marketing
Awards
American Rose Society Presidential Citation for Promoting the Rose and Rose Education Via Social Media
Twitter Shorty Award Best Short Online Content
1998 Dallas Rose Society Spring and Fall Show:
• Elizabeth Ferguson Large Garden Award
1996 Dallas Rose Society Spring and Fall Show:
• American Rose Society Best Modern Shrub Award
• American Rose Society Best Miniature Spray Award
1994 Dallas Rose Society 1994 Spring Rose Show:
• American Rose Society (ARS) Award for Best Shrub Rose
1993 Dallas Rose Society Spring Rose Show:
• American Rose Society Best Hybrid Tea Spray; Perpetual Trophy awarded
• ARS Best Grandiflora Spray Award
1992 Featured Garden in the Plano Garden Club's "Our Favorite Gardens" Tour
1985-1991 First Prize Blue Ribbons Presented by the following:
• Northern Chicagoland Rose Society
• Northeastern Illinois Rose Society
• Libertyville, Mundelein Men's Garden Club
1985 Twenty sixth Annual Spring Rose Show Northern Chicagoland Rose Society
• ARS Court of Honor Best Climber
• 11 additional ribbons awarded
1985 The American Rose Society's National Rose Show, August Schaumburg, Illinois
• ARS National Award for Best Climber
• ARS Best Climber at the Botanical Garden of the Chicago Horticultural Society
Social Media Statistics
Susan Fox
Consulting Rosarian
Awarded the American Rose Society's Presidential Citation
For Promoting the Rose and Rose Education Via Social Media 
Shorty Award for Best Short Online Content | Gardening
Website | Twitter | Facebook | Hometalk | Google+
Contact Info
Email: gagasgarden@gmail.com