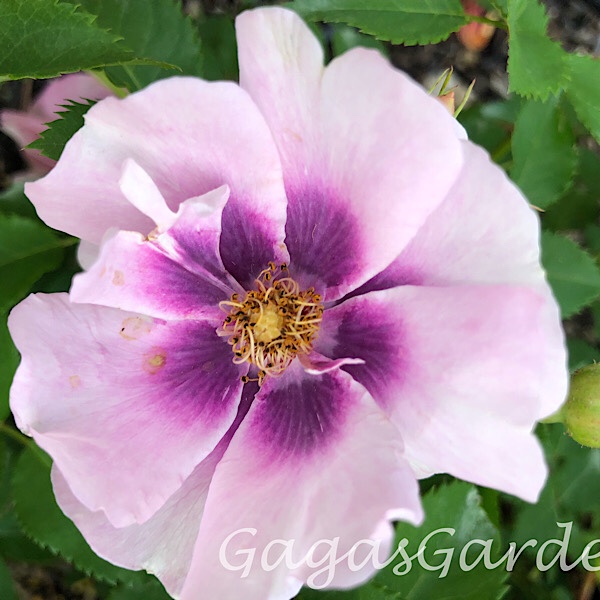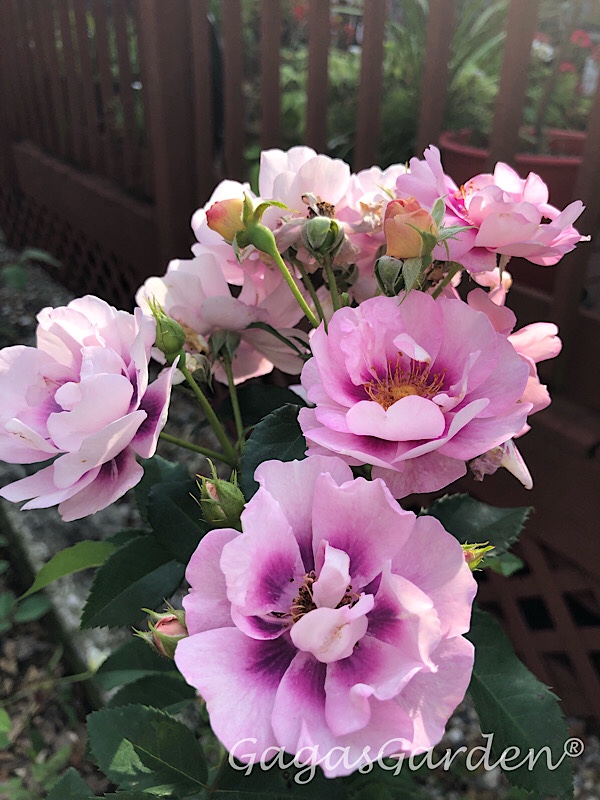 What Is A Hulthemia Rose?
Taxonomists A. Rehder to accommodate Wild Roses divided Genus Rosa into four subgenera; three very small and anomalous, namely 'Hulthemia', Hesperrhodos and Platyrhodon and one major Eurosa containing roses proper (see illustration). As much as this sounds a bit like dinosaur names 'Duckbill Platypus' and others, it's simply a way to classify and detail Plantae vs. Genus Rosa species.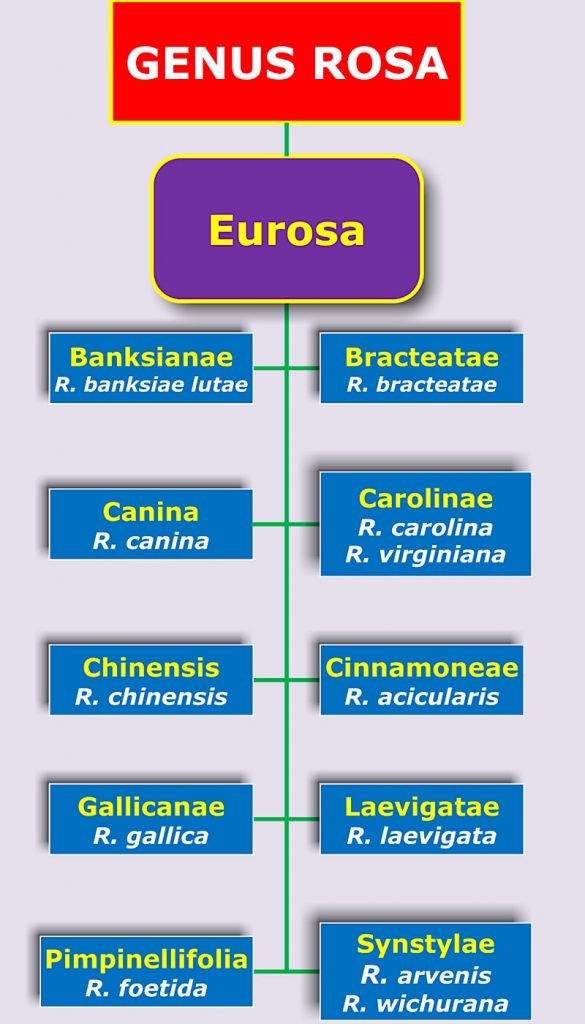 Hulthemias
According to Luis T. Desarmo's book "Principals Of Exhibiting & Judging Roses An Illustrated Approach" the Hulthemia "subgenera was subsequently disqualified from belonging to the rose family because of its solitary leaves attached to the stem rather than the compound structure of all other rose leaf sets (mainly 3,5,7,9, etc.) Classified now as a shrub the roses we see now coming from this sub-class are perfectly suited for landscape roses and minimal care rose gardens. If you like the beauty and originality of the look of the 'Hulthemias' rose breeder Jim Sproul has been posting incredible results that he's getting with his 'Hulthemia' seedlings.
Eurosa
The difference in Eurosa versus Hulthemias is that they have smooth hips, and are divided in ten sections, three can be regarded as very small and of little importance as far as the garden is concerned. Chromosome count in the cell nucleus provides a major a principal subdivision:
Diploids | Wild Roses | 14 chromosomes: 2 sets of 7
Tetraploids | Roses | 28 chromosomes | 4 sets of 7
Hexaploid | Roses | 42 chromosomes | 6 sets of 7
Octaploid | Roses | 56 chromosomes 8 sets of 7 (only a few have 8)
Triploids | Pentaloids | are odd-numbered sets of chromosomes | lack fertility and don't survive in nature.
No-Spray Roses
Matthais Meilland Recently Commented on his Team's presentation in China about no-spray roses
Promoting zero spray roses in China. No pesticide, no fungicide roses but with great blooming from spring to frost are key to the future of the rose market. Well done team !! Matthias Meilland
'Easy On The Eyes' Shrub In Bloom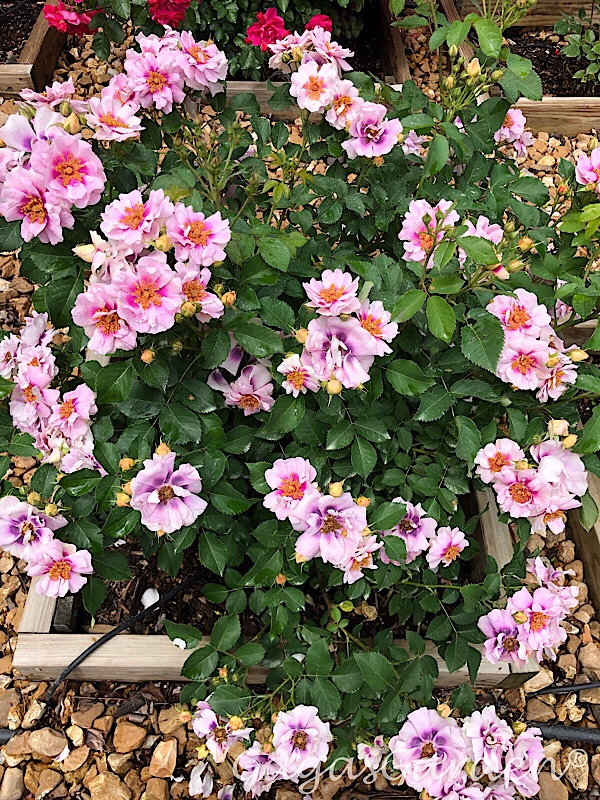 Description of 'Easy On The Eyes'
Decades of hybridizing to enlarge the magenta purple eye to its current size has resulted in an extremely novel color combination with the lavender pink flower coloration. It's floriferous, disease resistant, lovely dark green foliage and has a citrus like spicy fragrance. It's a medium size round shaped bush and it's just a lovely addition to the garden setting or could be planted alone. It was hybridized by Tom Carruth.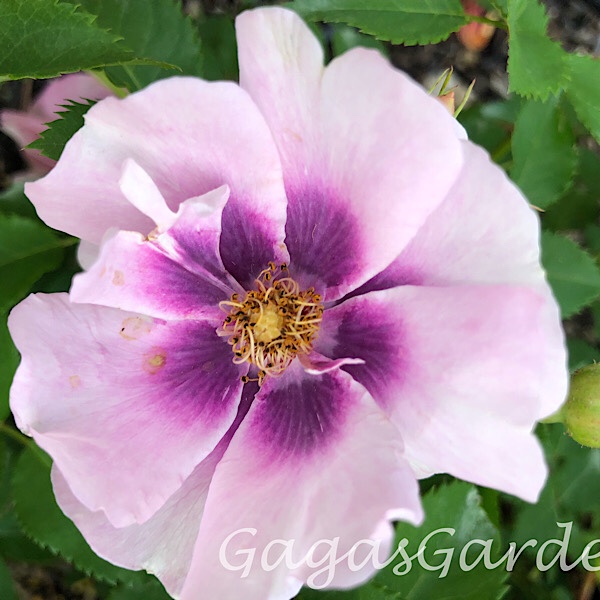 This image gives you a close-up view of details of the 'Eye' of 'Easy On The Eyes'
'In Your Eyes'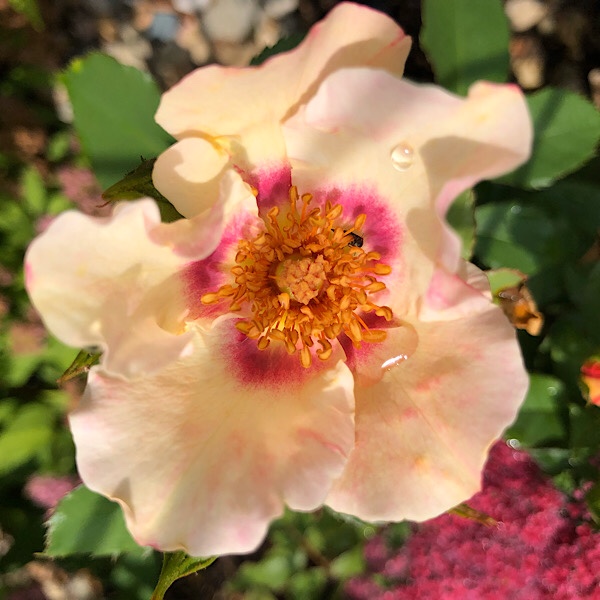 'In Your Eyes' Description
Christian Bedard created this cross from a shrubrose and a Persian hulthemia. Once considered its own genus as described above, the Persian Rose is a tough desert rose native with a distinctivehalo around the center of the bloom, a characteristic passed on to 'In Your Eyes'. It's diamond tough, disease resistant and wildly prolific. It blooms in big clusters of pastel shades. The flowers start out cream-yellow with a red eye and matures to lavendar with a putple eyebut as eash bloom appears the clusters become multi-coloredfrom spring to fall.
6-8 feet tall
Hardiness zone 5-9
Flowering Dates Late Spring through Fall
Winter Care mulch around the base
Flower color red, yellow, purple, pink
Pruning, prune to preferred shape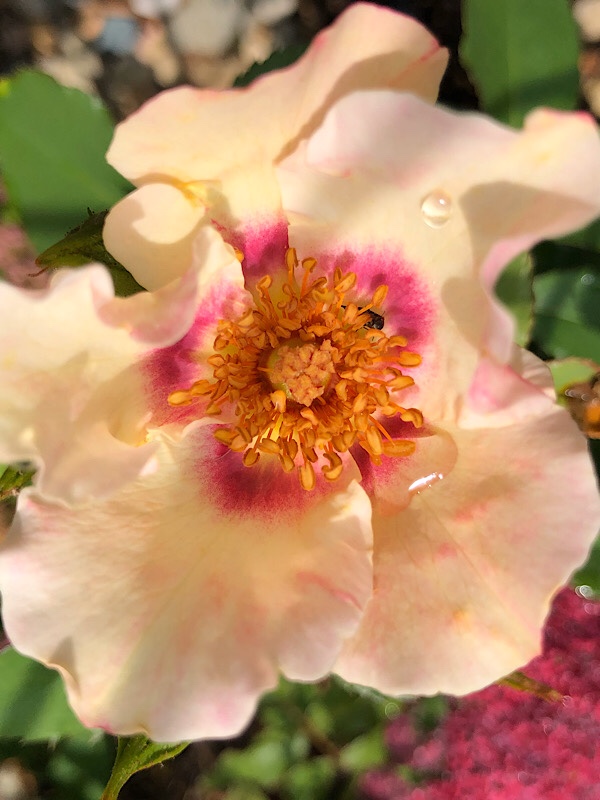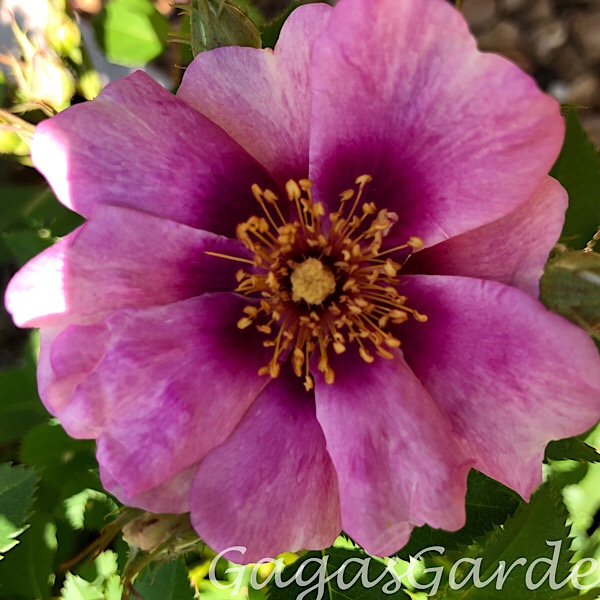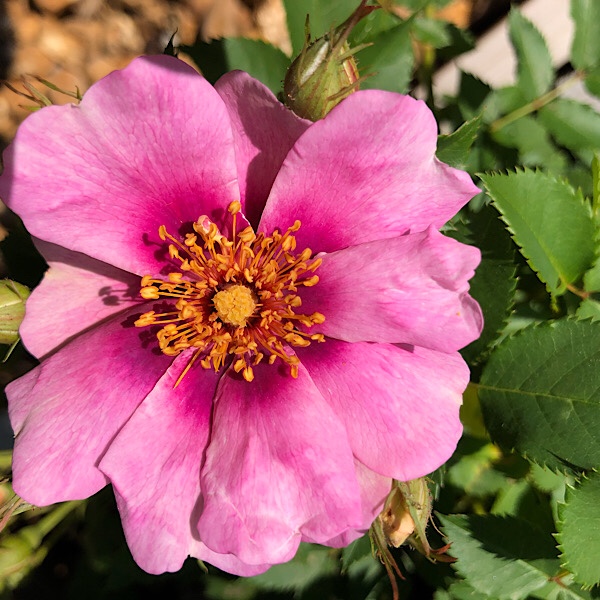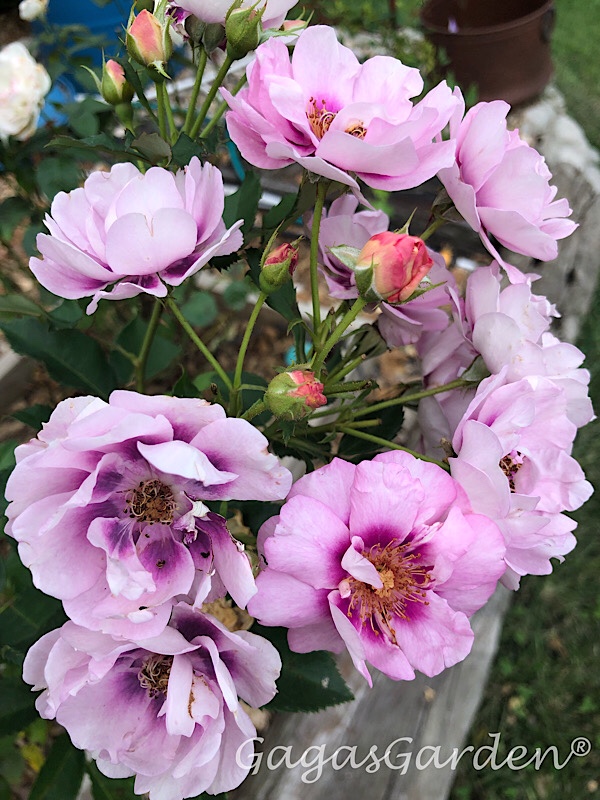 Why Hulthemias?
So Why Hulthemias? Because they are the optional no-spray minimal care rose. Many of my rosarian friends may argue that I started out this article saying that in fact they aren't a rose. Perhaps, but Hulthemias provide an beautiful option for the gardener who is looking for absolutely minimal care, color, fragrance disease resistance and best of all no-spray.
Hulthemias Are Growing On Me
And they can grow on you too, give one or two a try. I think shrubs are happiest in threes. Happy Rose Growing.