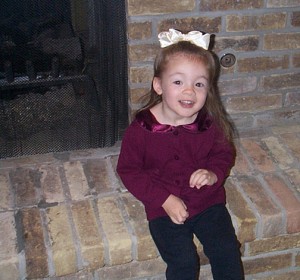 It's Thanksgiving and there's lots to be thankful for. In 2003 Gabrielle was 4 and she loved to spend the night. She had her own room. Now it's the kids room. We had a routine. Bath, three stories, prayers. She was old enough to pick books that were as long as a novel so bed time was like an epic novel, long and incredibly drawn out. It was memorable. The prayers I've heard, I've laughed, cried, giggled and most of all been humbled. Gabi doesn't pray like grown-ups pray. She just talks to God as if he were sitting on the bed. She speaks in a conversational tone with a lilted little girl voice. This is my Thanksgiving prayer to share with you.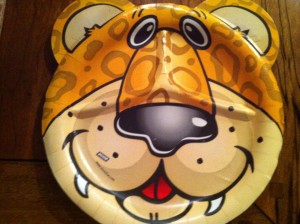 "Dear God, Gaga got me this cheetah plate so I am going to wash it and give it to you. I love you more than things, anything God. I really want you to have the cheetah plate God in case you don't have anything to eat your lunch on."                        Gabrielle Fox 2003
This is a coated paper plate.  I washed it.  Wouldn't you? It had just been deemed God's plate, what in the world else was I going to do with it.  Now here it is since 2003 in a plastic bag.  If you have a plate and it had just been deemed God's plate to eat his lunch on you better take care of it. So now God has a cheetah plate to share our feast at Thanksgiving given from the heart of a child.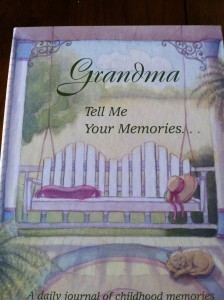 This is a great memory book. It prompts you to write stories of your life and you can do that. I use it to write about special times with the grand babies. When my Grandmother Chisholm died my most cherished treasure was her Bible with handwritten notes. I think I can see glimpses of her in her handwriting. I carry this to a whole new level. Imagine how surprised my grand-kids and great grand-kids will be when I am gone. My Bible has specific notes to the reader. Perhaps I have control issues. 🙂
November garden's should be put to bed. You should have allowed the spent blooms to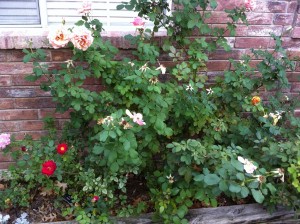 form rose hips signaling dormancy to the plant. Here's your schedule for what's left of November: water as needed. Do not feed.  Spray if you are getting new growth because I do see black spot out there on some areas on the roses. Prepare for winter protection. Store all your materials in a dry place and secure away from children. Prepare for winter protection. During the winter months we will start planning spring gardens. I have interviews scheduled with Annie Haven and some soil experts. It will be exciting.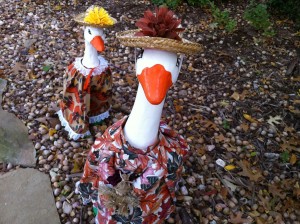 Thought you would want to see the goose girls in their Thanksgiving regalia!
And speaking of our feathered friends I was so surprised and delighted to see a local organic farm deliver their fresh organic turkey to my son's home. Kelly and Jimmy  Duval of Frognot Farms are a local organic source for all natural beef, poultry and dairy products.
http://frognotfarms.com
http://frognotfarms.com/uncategorized/turkey-processing-day
If you live in the North Texas area and you would like a fresh, organic hand processed organic turkey and you can act quickly contact:
Contact Kelly or Jimmy at Frognot Farms