The story of Barb Kingery's potting shed went viral. Why? Because Miriam Illions of Hometalk saw a picture I posted of it on Twitter. She tweeted to me and asked me to post it to Hometalk, her network, the largest home and garden social network on the Web. Its been pinned 7.8k times and shared 10k times.  Now Barb says, "Susan, we live on the edge of fame."
The Power of A Well Timed Tweet & A Photo
Barb reflected, "Susan, wait a minute, I think I am famous, just Google Barb Kingery."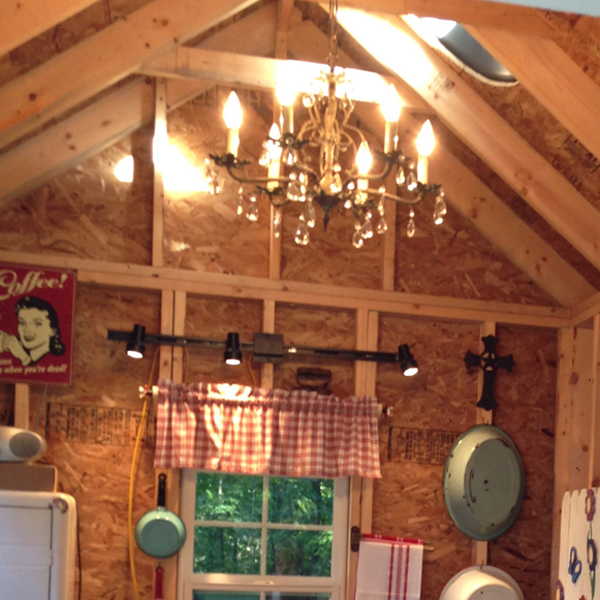 At Miriam Illion's request I joined the network and subsequently also became a spokeperson for Hometalk. I then posted the complete series of photos at that time at www.hometalk.com/gagasgarden. Since then Barb's '"Teacher's Dream Garden Shed" with an antique crystal chandelier has become quite famous. A few weeks ago Hannah Vaughn of Hometalk contacted me and asked if Country Living Magazine and Good Housekeeping, a Meredith Corporation could reprint my photos and the essence of the story. Barb now happily lives "on the edge of fame."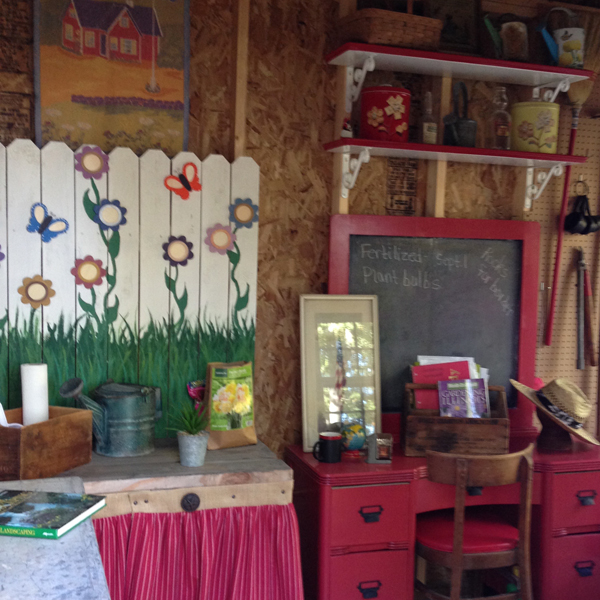 Here's her story as I posted it:
A 35 year career 2nd grade teacher, Barb Kingery from Illinois designed her dream potting shed herself. The potting shed design is an adaptation of plans that were in the 2005 July/August Handyman magazine. Barb purchased the red door at an antique store, and the builder turned it into a Dutch door as well as building the carriage doors. Every item including the brass and crystal chandelier was bought at garage and yard sales driving out in the country hunting for gardening themed items. The interior items cost her around $300.00. She contracted the work that had to be done by any outside labor. Functional in every way this potting shed coverts into a playhouse for grand kids to play school and store when not in use planting the fall bulbs.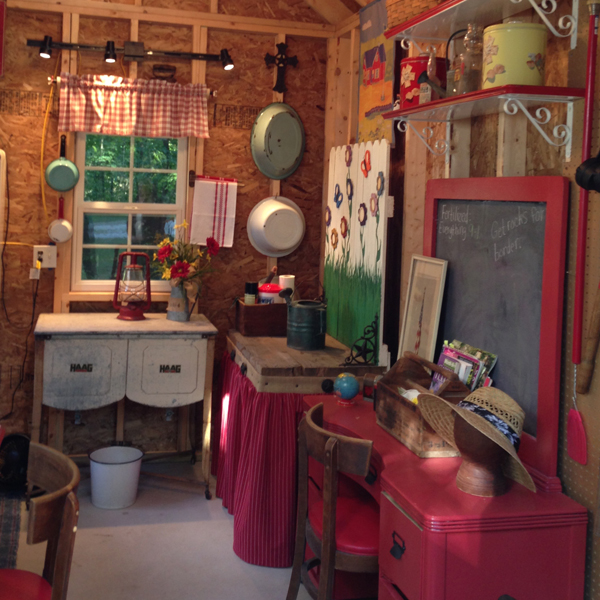 http://www.goodhousekeeping.com/home/craft-ideas/a37056/teacher-garden-shed/
http://www.countryliving.com/home-design/decorating-ideas/a37763/teacher-garden-shed/
You can learn more about gardening projects at www.hometalk.com/gagasgarden
Synopsis
*Reflection notes for Diary of A Marketing Mom: the discussion Master of the Marketing Analytics Universe, Michael Fox and I have been having is this, let's say Meredith Corporation tracks their new readership data with Google Analytics. They have to have this data to sell advertising. Trust me based on the 10k Retweets and the 7.8k pins I had on Hometalk for my post 'Teacher's Dream"this article is going to boost their readership. The new readership they gain all due to Barb's "Cute Potting Shed". The true source of this data actually would be Hometalk, via Twitter. Side note about Twitter is although enormously popular Twitter struggles to show value to advertisers. Our mantra in the departments I managed was if you can't measure it it's of no value. Change your strategy until you find what works, then be able to track and measure those results.  Its essential to source true data of what works, more than ever because of the disparity in the understanding of management of 'what is' and 'how does it add to the bottom line'. the social media activity department within marketing departments must prepare them self with case studies and be able to account for every dollar spent. Budget line items the 'C's often times cannot equate to the bottom line are the first to be cut are quite frankly social media, and public relations. A bit more of a challenge are the companies who haven't seen how 'social media' is really just a strategic arm of the marketing department. Use this case study for your marketing department to show how a social media works and single tweet can result in a measurable ocean of data and trackable new readers, prospects, customers.