Prune Them With Hedge Clippers
This week I pruned the Oso Happy® Oso Easy® Roses with the hedge clippers! Yes. The hedge clippers. My husband was thrilled. One rule applies to the roses: "Rose thorns may not tear off my clothes as I speed by at speeds previously never seen before the zero-turn was purchased."
Rotogravure
Now the Proven Winners Oso Easy Roses are pruned like boxwoods in an English style prim and proper hedge. The Oso Happy® with Oso Easy® roses were planted in the fall to show you they are indestructible. Here's the rotogravure of what the Proven Winner Oso Happy® with Oso Easy® rose bloom has looked like all year.
Fall Planting
Today time and investment are factors that affect our decisions in everything we do. Most folks tell me I would have a rose garden if I had the time or roses weren't so difficult to take care of. Shannon Downey at Proven Winners had asked me to try something new; plant Proven Winners shrub roses in the fall. So I planted all the Oso Happy® and Oso Easy® roses in the fall.
Brilliant Rose Breeders Creating Better Roses
David Zlesak, is a rose breeder that has been doing remarkable work to develop winter hardy, disease resistant roses. He works to create roses that are resistant to the scourges that have plagued roses over the ages and have kept folks from growing roses. 'Above and Beyond' is his remarkable apricot climber. Dr. Zlesak sent it to me to test grow after I had returned home from being invited to speak at the Twin Cities Rose Club in Minneapolis, MN. Many of the 'Oso Happy' roses were created by David Zlesak.
Meilland International's Alain Meilland
"Double Red' that I love is a Meilland International bred by Alain Meilland Rose Winter hardy, disease resistant, they are floriferous and you can prune them with the hedge clippers.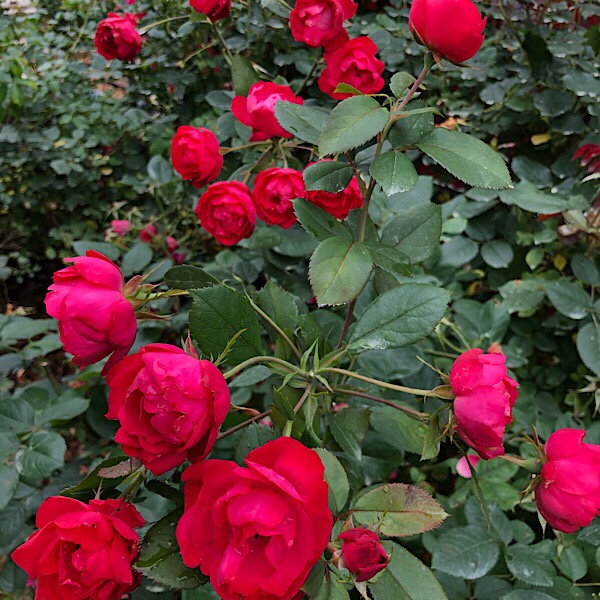 'Oso Easy' Double Red by Alain Meilland
This rose is spectacular. I planted it in the fall along with all of these Proven Winner Oso Easy Roses that Shannon Downey sent me. We agreed to conduct our own test. I have never planted roses in the fall. It subsequently was the coldest winter in Illinois recorded weather history the winter of 2013. This is the second season for the Proven winner shrubs. Last winter the temps were were down to zero. I'm happy to report not one Oso Happy® or Oso Easy® rose was lost to the winter cold. Thank-you to Proven Winners for making these wonderful roses available to the world hybridized by world famous rose hybridizers all listed below: the Meilland Roses International and Chris Warner, UK. What amazingly wonderful plants they are. You truly can't go wrong with these roses.Series One: Oso Happy® roses
All bred by David Zlesak: Oso Happy® Candy Oh!

Oso Happy® Petit Pink

Oso Happy® SmoothieSeries Two: Oso Easy® roses
Varieties bred by Chris Warner, UK:
Oso Easy® Fragrant Spreader
Oso Easy® Honey Bun

Oso Easy® Italian Ice
Oso Easy® Lemon Zest
Oso Easy® Mango Salsa
Oso Easy® Paprika
Oso Easy® Pink CupcakeVarieties bred by the late Colin Horner, UK:
Oso Easy® Peachy Cream (Not Pictured)

Oso Easy® Strawberry CrushVarieties developed by Meilland, France
· Oso Easy® Cherry Pie
· Oso Easy® Double Red (new to retail 2015)* *Thank-you to Shannon Springer of Proven Winners for providing this information