"I can tell you my love for you will still be strong, after the boys of summer have gone" ~ Don Henley
The colors of the 'Boys of Summer' roses intensify with the kisses of gentle dewdrops at night. Rain creates a wild jungle look and feel to the garden. I love the untamed look of the garden this time of year. 'Neil Diamond', new from Weeks Roses in 2015 is a star of the Rose boys club of Summer.
Be still my heart. 'Moonstone' is a rose I am in love with always and forever.
This master of the garden commands and holds the attention of every head that goes by and will play the role of "King of Show" and happily be "Queen of Show" just as easily. Its a must have for every gardener.
'Uncle Joe' is the stud in my garden.
He is the biggest, sexiest rose one can find in a bed of roses. He has the most petals by count of any hybrid tea. No pansy is he! If you like a rose with some girth, a real power house then you will love 'Uncle Joe'. If  'Uncle Joe' were a vehicle he would be Big Daddy's Dodge Ram. Of course that can be put up for debate. Smiley face.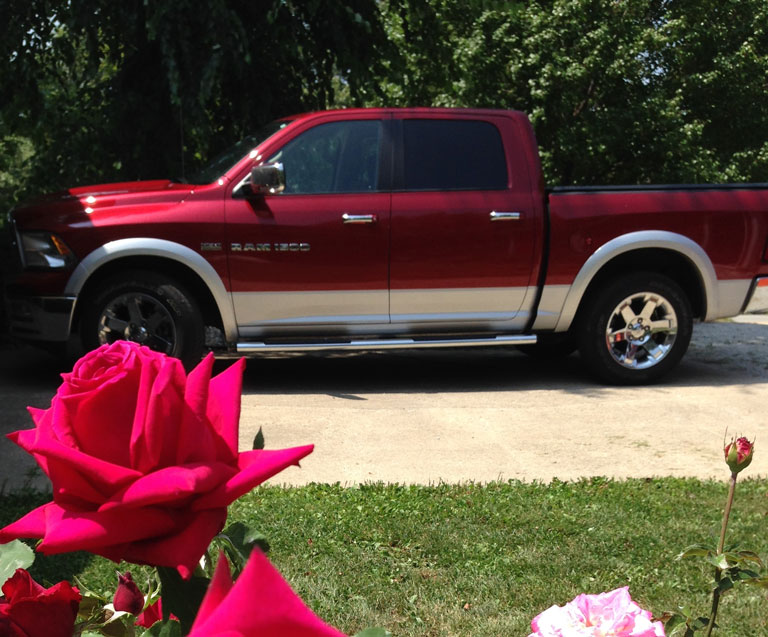 Did you know 'Sexy Rexy' was named for movie star Rex Harrison?
Born Reginald Carey Harrison known for his philandering ways and magnetic charm? Still sexy and a charmer in my book. Here it is covered in rain drops.
One of the most influential, unforgettable men in American history: 'Mr. Lincoln'
An Illinoisan, no rose garden especially in Illinois is complete without him. He is an American hero, a symbol of strength and freedom and a man of his word that all American Presidents quote and seem to do their best to emulate even today and I imagine God willing even into the future.  Each of you will fill the days of winter with dreams of what the new "Boys of Summer" will come our way next year.
"All that I am, or hope to be, I owe to my angel mother." ~ Abraham Lincoln
Known as 'Papa Floribunda', 'Gene Boerner' was the first rose I planted in Illinois

Gene Boerner served as a pilot in WWI, and is the first rose I planted to start over my rose gardens in Illinois. Eugene S. Boerner was born of German parents in Wisconsin, in 1893. He was hired by Jackson & Perkins in 1920, and spent his entire career with them.  "He was  jovial, and had a good sense of humor." Having grown up in cold Wisconsin, he wanted to create cold hardy roses, like Buck. No wonder this rose does so well in Illinois. This bloom picture was taken after the 3rd coldest winter in Illinois history. Gene Boerner hybridized more than 60 roses during his career at Jackson & Perkins and eleven  were given the All-America Rose Selections (AARS) award. Many rosarians feel it was Eugene Boerner who developed the floribunda into what it is today. I feel it is absolutely fitting that its 'Eugene Boerner' that is the first rose I planted for my floribunda rose garden. I shall miss you this winter 'Eugene Boerner', but I can count on you for the most magnificent display next spring, God willing.Thank-you Rhode Island Rose Society for some of the information I learned about 'Gene Boerner'
No story of the 'Boys of Summer' can be complete without 'Playboy'
Keep Warm. Its 41 degrees today. Here is 'Playboy', well, actually doing what he is supposed to do, being a 'Playboy.'
'Dick Clark's song plays on long after the "Boys of Summer" are gone
After the 'Boys of Summer' are gone for a season their songs play on in our hearts and the roses named after them evoke strong and beautiful memories in our gardens especially for one of the the most famous of them all, 'Dick Clark'.

Nobody on the road, Nobody on the beach, I feel it in the air, The Summer's out of reach ~ Don Henley