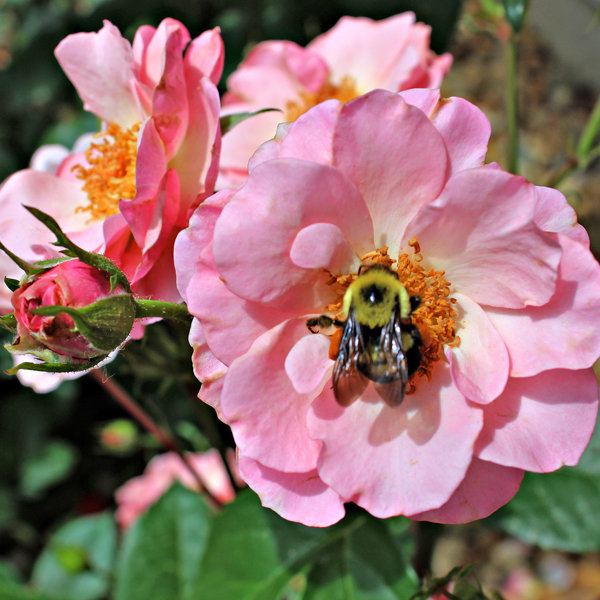 Summer Time of Easy Livin' Sets The Stage For Catching Up In The Garden
It's the dog days of summer. Vacations abound. Excessive heat can create conditions for your roses to produce smaller blooms and stunted growth to preserve water. Now is the time to prepare for a glorious fall rose display. Whether your roses have been subjected to extreme heat or lots of rain you can rejuvenate them with a few simple steps.
Roses Are Forgiving Now's The Time To Get Ready For A Fall Super Bloom
I've said many times "Roses Are Forgiving". So whether you've neglected your roses over the summer or taken great care of them it doesn't matter they can bounce right back and produce a beautiful fall bloom with a few easy steps. Excessive rain can wash away nutrients and heat stresses the plant during the growing season. During August do a few simple steps and you can sit back in your fall rose garden sipping your favorite beverage with friends enjoying the luxurious fall rose bloom. So before you pack-up the kids for the last summer fling have the kids get out there to put down a couple of cups of Espoma Organic Rosetone around each rose bush. Be sure they have plenty of water and you're on your way to seeing a glorious fall bloom.
Here's How To Cut Back Your Roses For A Fabulous Fall Bloom
A good rule of thumb is to prune your rose bush about one-third to one-half their height.
Prune out dead wood.
Leave the strong hardy canes.
New rose bushes only need to be dead headed.
"Rose Shows and State Fairs require planning and dedication to the cycles in days it requires to cut back your roses to produce the rose to show a qualifying rose at your local events. So start your planning now."
Folks that show roses cut back for the rose shows in their area or for the County and State Fairs. If you plan on showing in your local rose shows then cut back your roses based on this handy guide to approximately how long it takes to produce a rose on each type rose:
Repeat Rose Cycles In Days
Hybrid teas, grandifloras, and floribundas: 42 to 54 Days
Multi-Petal Floribundas (Europeana): 54-60 days
Single Petal Floribundas (Playboy) 35 Days
Miniatures 35-42 Days
August is the time to prepare for a spectacular fall rose bloom
September, October, November and even up until Christmas, fall is perfect throughout much of the country to spend time in your rose garden. You can enjoy the fruits of your labor, contemplate strategies for expansion and begin to winterize your roses. The cooler temperatures of fall create a glorious canvas for the fall rose show. It's time now to begin the process of cutting back roses for your fall bloom. 'Kimberlina', a 'Floribunda of the Year' 2009 winner is such a spectacular rose in the fall I chose it to show you how to cut back your roses to create a spectacular fall bloom.
Cooler Temperatures of Fall Intensify Colors
Cooler temperatures in fall create a palette of colors that makes your roses look doubly magnificent. From Wisconsin to Texas I've seen roses continue to bloom through the holidays. Roses can tolerate 3 days of hard frost of temperatures below 21 degrees before they are fully dormant for the season. So you can plan on roses for your bouquets for the Thanksgiving table in Illinois, maybe even Wisconsin. September is time to determine if there are still any American Rose Society rose shows in the area you may want to exhibit at as well.
Here are some 'Rose of the Year' winners and roses exclusive to Jackson & Perkins that I've grown from IL to Texas successfully that bloom beautifully all season and into the fall:
#1 'Kimberlina' 'Floribunda
#2 'Black Cherry' 'Floribunda of the Year' 2006
#3 'Moondance' 'Floribunda of the Year' 2007
#4 'Sugar Plum' Exclusive at Jackson & Perkins
#5 'Soft Whisper' Exclusive at Jackson & Perkins
August Rose Garden Check List
Remove all debris from the garden
Cut Back Your Roses Following Video In This Article
Plan To Show Your Roses at @American Rose Society Rose Shows
Check for spider mites by feeling the underside of the leaves, they look & feel like salt and pepper and can be removed with a water jet spray
Fertilize with @EspomaOrganic Rosetone Fertilizer
Add a layer of Canadian Spagnum Peat Moss around each rose bush, top with hard wood mulch with breaks down into the soil and replaces it
Check out DIY composting options to convert useful veggie scraps into soil building organic plant food
Replace mulch to conserve water and keep your bed cooler
Continue watering program, plant new roses using Greenwell Water Saver
Order fall rose deals and companion plants like clematis specials that you can plant now.