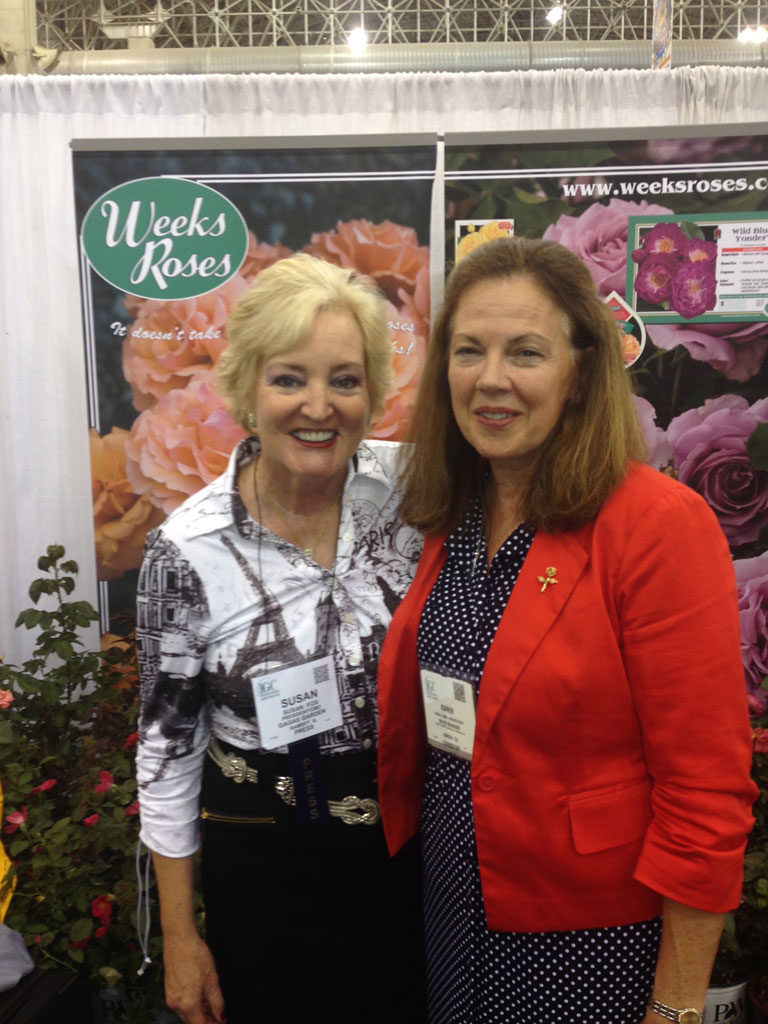 "I love you more than rainbow colors."
Ella Claire Fox*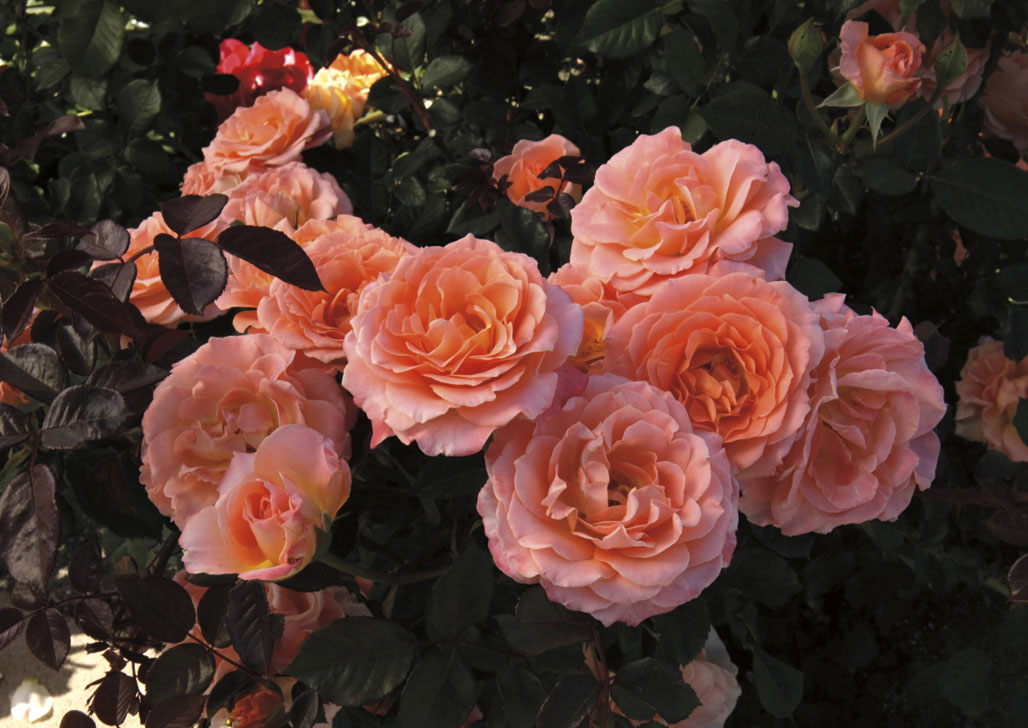 Roses speak to us in rainbow colors.
A single rose bud is a tapestry of color unfurling in a single day. If you could hear colors I am sure it would be a rainbow orchestra. ~ Susan Fox
"Roses In The Summertime" Twitter Chat
My topic on a Twitter Chat was "Roses in the Summertime" from 9:00 PM EST-10:00 PM as Week Roses, an almost 100 year old company, dedicated to building relationships has graciously partnered with me and to provide three gift certificates valued at $50.00. Join me on twitter to talk about roses just use the hashtag #roses. My twitter ID is @gagasgarden.

Weeks Roses ® Available Spring of 2014
We are so excited to show you roses that are still great roses for 2020!
'Jump for Joy' Floribunda (cv. WEKnewchi)
Lusciously lovely, delectable peachy-pink color sets apart this sister seedling of Sparkle & Shine. They may have their differences (peach pink vs. deep yellow). But, like most sisters, they share some likenesses, too. Both are distinctive because of their large showy clusters, long-lived flowers with lovely color, round bushy super-flowerful habit, loads of glossy green leaves & consistent dark red new growth. Buy them both & let these sisters battle it out for what's the best in your garden.
Color: Peachy-pink
Height/Habit: Medium/Very rounded & bushy
Flower Form: Ruffled, in large clusters
Bloom/Size: Medium, up to 4-inch diameter
Petal Count: Around 25
Fragrance: Mild apple
Hybridizer: Bedard 2014
Parentage: Julie Newmar x Julia Child
Coretta Scott King grandiflora cv. WEKstohoco) PPAF
Elegant long buds of cream begin to 'frost' with blushes of coral-orange as they spiral open. This color persists on the blossoms for a great display of color and flower power…big clusters held high for all to see. Very good disease resistance means her wrapper™ of green stays handsome in the garden for a full season of elegance.
Color: Creamy white blushing coral-orange
Height/Habit: Tall/Very upright, bushy
Bloom/Size: Double, in clusters/ Medium-large, around 4″ diameter
Petal Count: Around 25 to 30
Fragrance: Moderate tea & spice
Hybridizer: Bedard 2014
Parentage: Moonstone x Hot Cocoa
Good as  Gold Hybrid Tea (cv. WEKgobafa) PPAF
Some might say orange, some gold, some amber or maybe it is even double-dipped yellow". However your eyeballs perceive it, we can guarantee it is bold & beautiful, especially with the kiss of red on the finish. This handsome bushy bouquet machine will fill your garden with loads of long-stemmed lovelies clothed with a clean gown of rich green. Certainly not for the faint of heart…nor for the lovers of pastels.
Color: Deep golden orange-yellow finished with a kiss of red
Height/Habit: Tall/Upright & bushy
Bloom/Size: Double, formal/Medium to large, up to 5″ diameter
Petal Count: Around 30
Fragrance: Grapefruit & citrus
Hybridizer: Carruth 2014
Parentage: Golden Beauty x About Face
Happy Go Lucky Grandiflora(cv. WEKsirjuci) PPAF
BIG fragrant & full old-fashioned blossoms of pure yellow have all the charm of an English rose but born on this side of the pond. Yet it easily bests the disease resistance of any English variety hands down retaining its gown of rich green foliage. The vigorous bushy plant flowers like a fool well into the season without turning into a sprawling stingy space-eater in the landscape. With a bloodline like this, you know its gotta be good.
Color: Even pure yellow
Height/Habit: Medium-tall/Upright to somewhat rounded, very bushy
Bloom/Size: Very double, old-fashioned/Large, up to 6 inch diameter
Petal Count: Around 40
Fragrance: Moderate fruity & tea
Hybridizer: Bedard 2014
Parentage: Strike It Rich® x Julia Child
You're the One® Miniature (cv. WEKtaclagoma)
Here's a blue-ribbon grabber that goes great guns in the garden, too. Perfectly miniature-ized Hybrid Tea shaped buds of cream open very formally with several blushing shades of pink. But beyond the show table, this baby will knock 'em dead in the landscape with a bushy flowerful plant you can tuck into smaller spaces to create a riot of color. Loads of deep glossy green leaves provide the perfect background for the ever-changing show of plentiful pinkness.
Color: Ivory white blushing pink & finishing ruby
Height/Habit: Medium-tall/Rounded and very bushy
Bloom/Size: Medium for the class, 1½ to 2″ in diameter
Petal Count: 20 to 25
Fragrance: Mild apple
Hybridizer: Carruth 2014
Parentage: Santa Claus x Goldmarie
The History of Weeks Roses
O. L. and Verona Weeks founded Weeks Wholesale Rose Grower, Inc. in 1938 in Ontario, California. This highly respected company's reputation reflects the high standards and integrity that came to be known as the 'Tops In Roses'. In 1985 Ollie and Verona retired and sold Weeks to Charlie Huecker and Bob DeMayo. Today, Weeks Roses is part of the Gardens Alive! family of horticultural companies. Today, the name of Weeks has become synonymous with personal service and top quality roses throughout the U.S.
Weeks Roses Today
Week's Roses state-of-the art processing, refrigeration and distribution center is located on 1200 acres of production facilities and growing grounds in Wasco, California, in the San Joaquin Valley. Wasco has deep loamy soil, plentiful clean well water and a natural climate that fits commercial rose production perfectly. There they produce strong healthy bushes that ship easily and adapt well to most climates in the US. The research and licensing office is located on the Cal Poly Pomona Campus along with the hybridizing greenhouses and display/test gardens.
Spring Shipping of Roses
Beginning in early December and ending about mid-February, Weeks Roses ships over four million bare root roses throughout the US. Immediately following harvest, the roses are carefully graded and packed, then shipped in temperature-controlled trucks, either directly to customers or to various strategically located cold storage warehouses and made available to nurseries and garden centers.