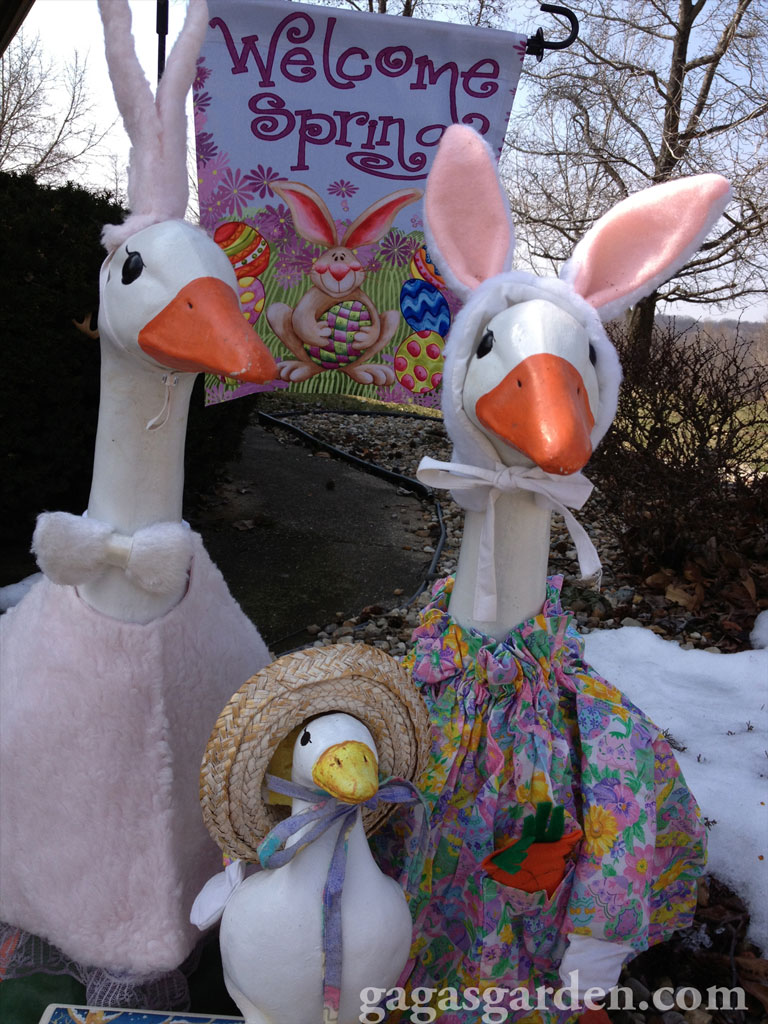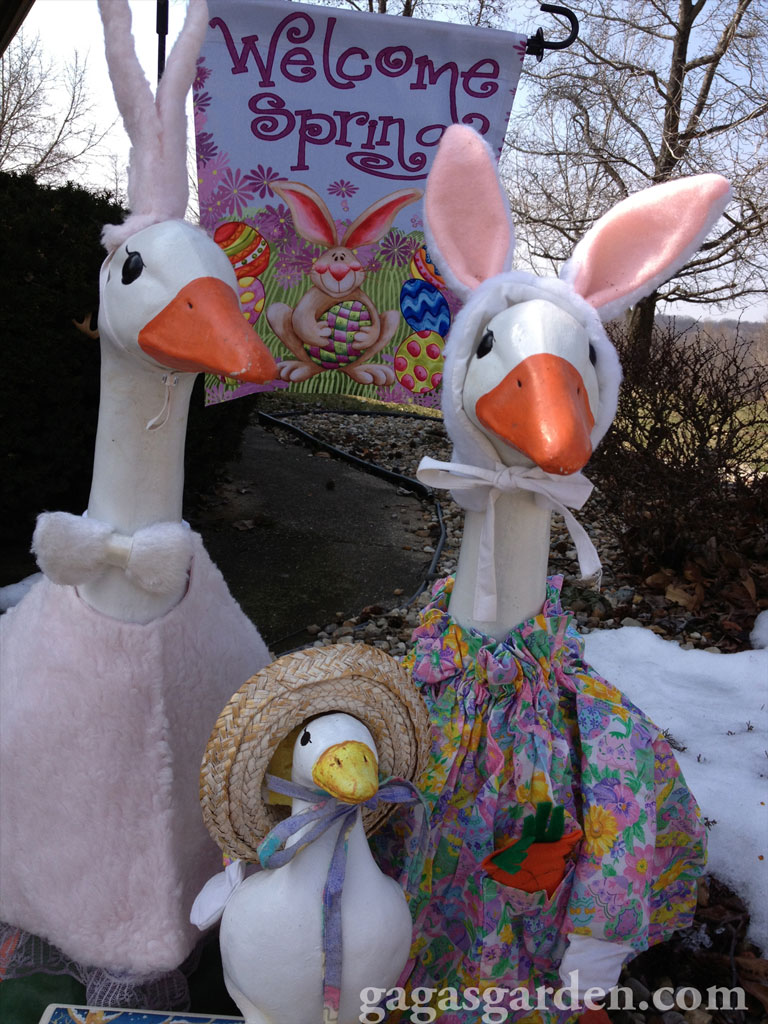 Hallelujah! The geese family is all decked out in their Easter Regalia.  It was touch and "snow" due to snowmageddon. Readers of Gaga's Garden will remember when the Geese Girls were kidnapped from their Plano, Texas home one Easter never to be seen again. Everyone was saddened by their disappearance. They were loved by neighborhood children and adults alike. Touched by my dismay over their disappearance friends rallied and located another family of geese and adopted them for me when I moved from Texas to Illinois.  Much to my enchantment they were here in the yard when I arrived from Texas. Since we had 15″ of snow last week and temperatures in the 20's in S. Central Illinois I was wondering whether the proud Geese Family would still be buried in a snow bank.
Now I shall remind you how I preach about pruning too early. I hate to say I told you so but…I told you so. My story of Pruning Post Traumatic Stress Disorder (PPTSD) has been validated once again. Here's the drill. There's always some local lore, such as the last day for a hard frost is Presidents Day so you can prune your roses, or prune your roses on Valentine's Day. Sounds romantic, right? We have some warm days and get the pruning fever; go out and feel ahead of the game. Here's the dilemma we face. A hard blast of winter can come back with a vengeance so its best to err on the side of caution. When it is time to go out and prune we often feel like we have to do it all at once. One year pruning 200 roses over the course of a couple of days I developed a severe case of acute tendonitis, or tennis elbow. Getting tennis elbow from playing tennis sounds a bit more glamorous than getting tennis elbow from pruning 200 roses I think. I had to wear a brace for a long time since tendons are a bear to heal and every time I picked up the clippers they would just release without that brace on. So here are a few way ways we can take care not to over due it and be sure to not have pruning take a bite out of us. 🙂
Stretch before starting to garden
Use good body mechanics, warm up muscles
Sit when you can or invest in a good rolling cart
Lift with your legs and keep your back straight
Use the big muscles in your legs to perform lifting bending shoveling
When pruning or weeding be sure you are stable to avoid tipping backward
Try to maintain a good posture to avoid back strain by not hunching over
Always use a kneeling pad
Well maintained pruners make for easier cuts
Practice gentle strength- have the best tools in top condition and don't try to do everything at once
A friend said to me once "what a lovely hobby you have" referring to rose gardening. I remember I was taken aback by the word hobby because growing roses is so much more to me than a hobby. I feel gardening is good for the body, mind and soul. There is a spiritual element to being one with nature, digging in the dirt and watching a garden become a creation. There are quiet, reflective and meditative times alone in the garden that are some of the most intensely satisfying moments one can imagine. You can truly be present in a moment in your rose garden. It can be even better if you take care of yourself, so you can continue working in your garden and it will reward you far more than you can imagine.